Welcome to the Movement in Arizona
Transformative Membership & Advocacy
You can live the life you want; blindness is not what holds you back.
The National Federation of the Blind knows that blindness is not the characteristic that defines you or your future. Every day we raise the expectations of blind people, because low expectations create obstacles between blind people and our dreams. 
Through our vast network of blind members and friends, we coordinate many programs, services, and resources to defend the rights of blind people across Arizona and beyond. We provide information and support to blind children and adults and build a community that creates a future full of opportunities. Join our efforts in Arizona by becoming a member of a chapter near you.
Click here to learn more about membership in the National Federation of the Blind of Arizona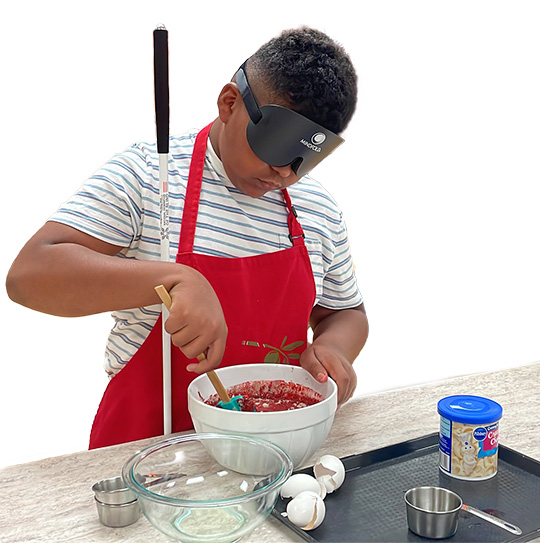 From Our National Community
National Convention
The National Federation of the Blind National Convention is the largest gathering of blind people in the world. It is the premier event for training, support, and information for the blind community. It also serves as a governing body, democratically electing our leadership and establishing each year's organizational priorities. Attend convention!
Free White Cane Program
The white cane allows you to travel independently and safely—no blind person should be without one. We offer you a free one. You can order a new one every six months. The National Federation of the Blind has distributed nearly 100,000 free white canes since 2008. Request a free white cane!
Braille Monitor
El Braille Monitor es la publicación insignia de la National Federation of the Blind (o Federación Nacional de Ciegos). Access the English. Cubre los eventos y actividades de la NFB, aborda los problemas que enfrentamos como personas ciegas y destaca a nuestros miembros. Read the monitor!
Have An Impact
The National Federation of the Blind of Arizona relies on the generous contributions of its supporters. As a registered 501(c)3 non-profit organization in good standing with the IRS and the state of Arizona, your contributions may be tax deductible. Consider taking advantage of the state of Arizona's annual tax credit for charitable contributions and in doing so you will help to transform the lives of blind people across our state. Your kindness will have a positive impact.
Click here to donate to the National Federation of the Blind of Arizona